I am trying to convince my spouse that we should do a family Halloween costume set based on the hilarious and brilliant show Adventure Time. He's never seen the show (blasphemy!) so I pulled up this episode to watch…
Season 2, Episode 3 called "Storytelling." The plot is pretty silly:Jake the Dog is sick so he begs Finn to tell him a story with romance, fights, suspense, and a happy ending OR ELSE HE'LL DIE. And, it has to be a true story.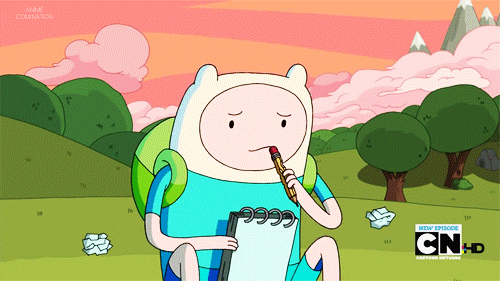 Finn attempts to force a story, step by step. He harasses a few forest animals and tries to make them make out (romance?).
He beats up a bear and makes the bear's mom cry (fights??). He considers killing baby birds but decides against it at the last minute (suspense???). Then the fed up forest animals seek out their revenge:
But ultimately, he makes peace with the animals and there is his Happy Ending! (It is so much funnier than my summary suggests).
The initial take away might be "gosh, you can't force a story. It has to happen organically" but BZZZZZ no, that is wrong. Finn found his story because he forced himself out there.
He went into the forest, he experimented, he put things into motion. 
Writing is really, really hard. It is so much easier to think things through in my head because I do not actually have to actually labor. In my head, the research and background knowledge is already laid down all neatly like tracks for the perfectly formed argument to plow through. Even when it isn't, I can tuck that reality away and just feel good about the generalized IDEA of my paper. Also, our culture tends to assume that all intellectual and creative work is in the head, right? The tortured philosopher or genius storyteller pacing around until the lightbulb over their head turns bright. Then there is procrastination…
When I actually sit down to write it, I have to deal with the dirty work, the hard lifting, the citations. My back hurts and I keep drinking tea to stay awake. I lay out big, sloppy, uncertain swathes of roadwork and find potholes everywhere. It is hard work and I wish it would just write itself.
But…as Jake the Dog said
Because I set up a 30 day writing challenge, I'm being forced to face my own bad habits and laziness. It is hard to remember to come back to the blog to update my writing progress so I'll be better about that this week. Last week was HELLISH and exhausting for a number of reasons but I am proud to say that I have STUCK to my writing goal and done a little bit each day.
Happy Labor Day ❤