The final arc of Princess Tutu (Episodes 22-26) is amazing – and not just because I got to take so many fantastic, angry, constipated "writer's block" faces.
There are two big themes that I want to pick out.
First, we see Fakia grapple with what it means to be a storyteller.
On one end, there are the ominous "Book Men." Shrouded and strange, they "managed" stories' impact on the world by cutting off Drosselmeyer's hands and burning the endings of his books. They are neither writers nor readers but maybe represent critics.
They play a small role but it is interesting how closely they mirror Drosselmeyer's desire for control. The only difference is, they control with gruesome and conservative cruelty whereas Drosselmeyer controls with flippant, irresponsible cruelty.
Fakia is also supported begrudingly by Aotoa (the Author) who is still somewhat convinced he himself is the most qualified, the smartest, and deserving by birthright. It is telling that he is called Author, a title that suggests an identity as opposed to a practice (the difference between "I tell stories" and "I'm an author" is illuminating). Authorship as a concept is similarly about control, ego, and fame.
Fakia though is a story teller, a spinner, a magician. He does not write for to control, for power, for fame, or recognition but out of love, friendship, and a desire to help. Though… technically, he cannot write anything on his own until the finale since he's suffering writer's block like you wouldn't believe.
Ultimately Fakia does write but not about Mythos, the prince they all want to save and ostensible hero of the broken tale. The only thing he can spin stories around is Ahiru – not just because he loves her and wants to protect her but because he believes in her role and because she is waiting for his story.
Lesson 1: Fakia spins magic as a story teller because he is inspired by and wants to share stories out of love for the world — not out of a desire for control, power, or his own ego. 
The second theme I want to emphasize is, The Story Must Come to an End.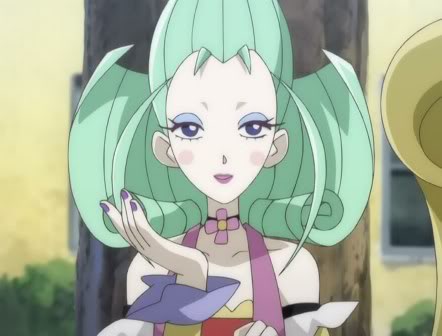 The entire universe of Princess Tutu spins on the suffering spun by an unfinished story. The jewel seller Edel from season 1 muses, "A story that never ends is a cruel thing." And in the lead up to the finale, Ahiru tearfully admits that she is terrified for the story to end. She will disappear and return to her "true self," which is not a little girl in an arts school that has many friends…but a weak little duck floating alone in a pond.
Fakia similarly pauses in the middle of the battle, eager to do something to help. Aotoa has to force him back to his desk to finish the tale, which is his best form of fighting.
Lesson 2: Aotoa said it best. "You decided to write a story, didn't you? Then write it to the end!"
As for my own writing?
Started at 4pm
Wrote 307 polished, new words.
I did a little bit better because I slept more! It is actually hard to remember to come back to the blog to monitor my progress but I feel like it keeps me honest.
And here are some lovely, left over stills from the show's final episodes.
~~~
Aug 27: Hm I think I will continue to edit older posts to add writing updates. It seems cleaner than filling up new blog posts just to notch writing, right? I hope Sumire can find these though haha.
I am happy to realize I am 1/3 done with this shockingly challenging, er, Challenge.
Started at 2:30 pm
Wrote: Honestly, today was impossible to count. I edited heavily and submitted a polished 80% finished draft to my writing partner! It was a ton of work but I'm not sure how much new text was included to the word. Again, the goal is to finish the draft 100% and I have to remember that mid-stage editing only TEMPORARILY feels like progress but it is ultimately busy work until I can assess the entire thing. And nothing feels better than being DONE.
August 28
Started Writing: 4pm
Wrote: 179.
Review: Today was a little odd because we had a writing group (exchange writing and share comments). Tomorrow I have to get back on track.