I wanted to post this gif after yesterday's grand success…
And so, I assumed today I'd be all
But then today was actually like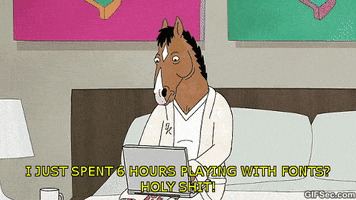 Edit: adding in Sunday to keep the weekend in one post.
Started writing: 9:49 pm for Sat and then 10pm for Sun
Where: home, crouched in my chair.
Word count: Hm, roughly 6 brand new words for new sections (not editing). On Sunday I added 111 words.
Review: This is everything I did wrong.
I treated the weekend like a different kind of day. No, I still need to schedule protected time to write.
On top of not having protected writing time, today was full of STUFF. Went out by 8:10am and never had enough down time. I'm an introvert and burn out quickly so what was I thinking?
Burn out made worse by sugar crash. No more post-dinner boba.
Today was an editing day. I moved big pieces here and there, cleaning up sentences, and making connections. I also set up a new problem to move forward on (my 5 words). This is necessary but should not "replace" actual writing.