ひと口食べれば、勇気100倍、パワー100倍になる、スペシャルクッキーなのよ!

These are special cookies! With just one bite, you'll get 100 times braver and 100 times more powerful!
This scene is, of course, from the Sailor Moon Super S movie "The Miracle of the Black Dream Hole." This movie is one of my absolute favorite products in the entire Sailor Moon universe (I actually owned the VHS…remember those?) because of the amazing opening scene of everyone baking cookies — starting with snapshots of the girls baking with their mothers as children
and because of this totally addicting song about the 3pm fairy that brings children after school sweets:
 lyrics and translation here or here.
Ah, I am so full of dreams
Mint pie and apple pie
Good cake, good spirits
Cookie -ookie -ookies!
There are many anime and manga based entirely around cooking, baking, or sweets in general and it inevitably pops up once in a while in almost all media.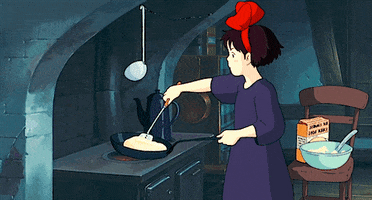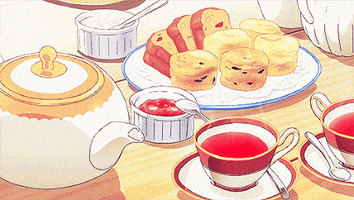 Just off the top of my head, we see cakes in Sailor Moon R, Episode 76. Magic of Darkness: Esmeraude's Invasion (暗黒の魔力! エスメロードの侵略) via Hulu. Marzipan villainess henchmen turning the girls into gigantic cakes at a sweets bakery. We see it again in Cardcaptor Sakura episode 29 "Sakura's Sweet Cooking" (さくらのあまーいクッキング) and more in the special episode "You're Wonderful Sakura-chan! Tomoyo's Cardcaptor Sakura Video Diary 2." Eating cake is a regular club activity in K-On. Shugo Chara has a character entirely based on the aspirational dream to be good at baking.
I mentioned this earlier but I'm not very good at cooking or baking. Instead of like
I'm kind of like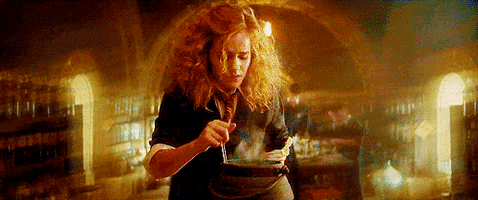 I am waaaay better about eating the cake, not baking it. But in any case, this month of July is all about food.
To make: Quinoa cheese bites, blueberry banana muffins, zucchini bread, berry ricotta cake…
To write: An essay on Tanizaki's Bishoku Kurabu for work.
To channel:
And then? Got to run, run, run it all off.
PS. If you are interested in anime cooking, I recommend this wonderful blog: https://itadakimasuanime.wordpress.com/!